Saturday, January 2, 2010
Haha maybe no one will read this cause the blog is dead
Thank you Jeremy for drawing this map for me so I wouldn't get lost trying to find the bus stop =p.
Fig 1. Jeremy's inaccurate drawing
But what are the million things wrong with Jeremy's map?
1. Cashew Heights Condo is smaller than the 966 bus stop.
2. Bukit Panjang Primary is bigger than Cashew Heights Condo.
3. Uneven roads.
4. Too many unnecessary arrows on roads.
5. There are roads drawn going in the wrong direction.
5. Dogs don't look like that.
6. Its very considerate and nice to remind me to 'look left and right' =D haha but ppl usually do that before they cross the road, not after.
7. The T-junction should have 2 more traffic lights.
8. Should not advise users of map (me) to jay walk across the road. (Instead you should get them to cross at the aforementioned traffic lights tt were not drawn in =))
Plus Points:
There's a big smiley face beside the word map.
Haha anyway its a really sweet and cute effort from a mafia whose talents do not include drawing.
It really feels weird/lame blogging on a dead blog. And kind of fun =D.
Posted by Eliza at 11:00 AM
Sunday, December 6, 2009
2009 new year's eve party
just in case anyone still reads this,
edison and I are thinking of having a 70 new year's eve party again this year!! possibly at jeremy's house, although this isn't confirmed yet. so do let either of us know if you can make it! hope to see everyone soon (:
Posted by geraldine at 1:36 PM
Tuesday, March 3, 2009
in case anyone still reads this...
are you guys up for breakfast/brunch this friday morning? time and place still undecided but let me or yanzhi know if you want to come!!
<3 geraldine
Posted by geraldine at 7:34 PM
Monday, December 29, 2008
hello
I guess I should post something. Well. Lol 31st 'countdown' thing at my house=).
My address is 15 Waringin Walk, the mrt to stop at would be Kembangan mrt station. Details on how to get here can be found by clicking on the 2007 december archives on your right =D. Alternatively, you could give me a call once you reach the station and I could direct you from there.
Lol you don't have to confirm with me if you are coming, though it would be nice =). You can come at any time..but between 7-8 would be a good time =).
Yup. K that's about all. +)
Posted by Eliza at 8:25 PM
Monday, December 22, 2008
xmas gathering
hey ppl pls ignore the prev post. the party will be on xmas day (25th) itself.
my address is Block 297B Compassvale Street #05-18 S542297 (in sengkang). bus services available are 27, 82, 83, 86, 88, 89, 136, 161, 578, 965. if you are coming by train, the nearest mrt station is sengkang, after which you will have to transfer to the lrt and take one more stop to Compassvale. you can call me on the day itself for more directions.
you can start coming at around 5pm. oh and i also want to find out who's interested to go swimming at the Sengkang Swimming Complex in the day. it is a recreation pool similar to the jurong east one. for pictures pls visit
this site
.
people who have not confirmed with me if you are coming pls tell me asap! urgent!
ok these are all the details for now. if i can think of more i will definitely write them down in the next post.
hope you guys can turn up!
Posted by [qiggy] at 9:40 PM
Saturday, December 20, 2008
xmas gathering
hey ppl i am inviting you guys to my house on 24th dec. people who are interested pls msn me. pass the msg around. details will come at a later date.
merry christmas!
Posted by [qiggy] at 11:57 PM
Sunday, December 7, 2008
BBQ at the rock's poolside
THE FOLLOWING MESSAGE IS ON BEHALF OF SIM CHU MING WHO LOST HIS PASSWORD! GREAT JOB CHU MING!
Hey people! Barbeque at Jeremy's house on 9th dec. Address are as follows:
block 95 Cashew road
Cashew heights
13-03.
Chu Ming asks that u bring swimming trunks/swimsuits since it is poolside. Me suspects some people might be pushed in.
P.S. OMG typing this when watching house season five is so hilarious.
people with piccies pls upload to blog or facebook!
With love!
Kow
Posted by Lykaios at 8:30 PM
Tuesday, November 25, 2008
Yeah this is a little late but
MUAHAHAHAHAHA A LEVELS ARE OVER. No more waking up early to go to KAP to mug. No more integration and complex numbers. No more diversity and evolution. Goodbye application notes with Mrs. Foo's face on the cover! Goodbye Kant!
:D:D:D:D:D:D:D:D:D:D
Can't wait to see you guys at prom and stuff! Yayyay.
Posted by zwitterion at 12:00 AM
Wednesday, October 22, 2008
prom night
hey guys!!
how many of you would be interested to book a hotel room to crash in after prom? because we all know it's totally uncool to dress up just for a few hours and depart home alone after the night at ritz, right? so we could do cute post-prom things like go clubbing and hang out like delinquents in our city streets, and then crash at one of those nice sleazy hotels in orchard road!
and also if we book suites we can do all our pre-prom dressing-up together! (and we all know that's the real fun part in going out anyway - the dressing-up and cam-whoring :D )
okay so if you're up for the idea sms me or shibao okay! and if your parents have any discounts for hotels tell shibao! or we can just go to hotel 81 and check out girls. or boys. or both. (:
Posted by mish + at 12:19 AM
Thursday, October 16, 2008
last day in sch
PICTURES HERE
Posted by [qiggy] at 11:06 PM
Tuesday, October 14, 2008
downloadable grad day photos
ok i shall take my words back. WEBSHOTS SUCKS LOL. it doesn't allow non-users to download photos wtf. just uploaded everything onto
photobucket
hope its working fine!
to michelle: you should really try photobucket! it offers downloads of better quality photos than flickr. and their apps are really cool you should go explore if you have the time. oh anyway i have got a surprise for you go check out the album and you'll see :)
Posted by [qiggy] at 9:53 PM
Even MOAR photos
Gasp! One might even think we could make a habit of this camwhoring business 8)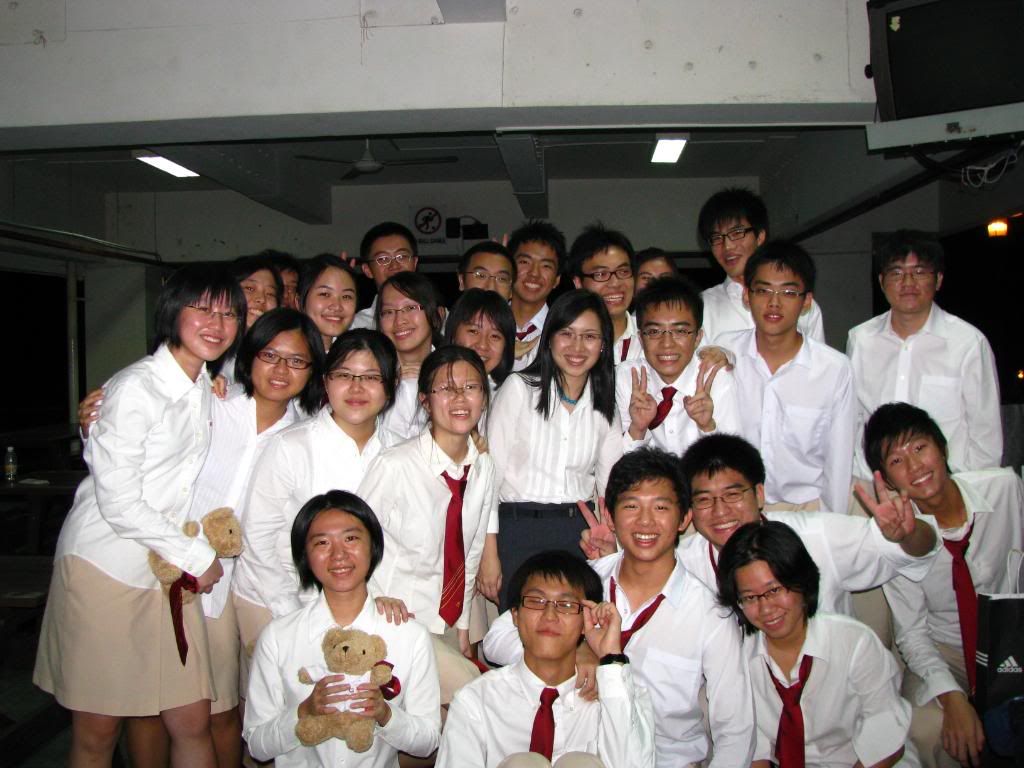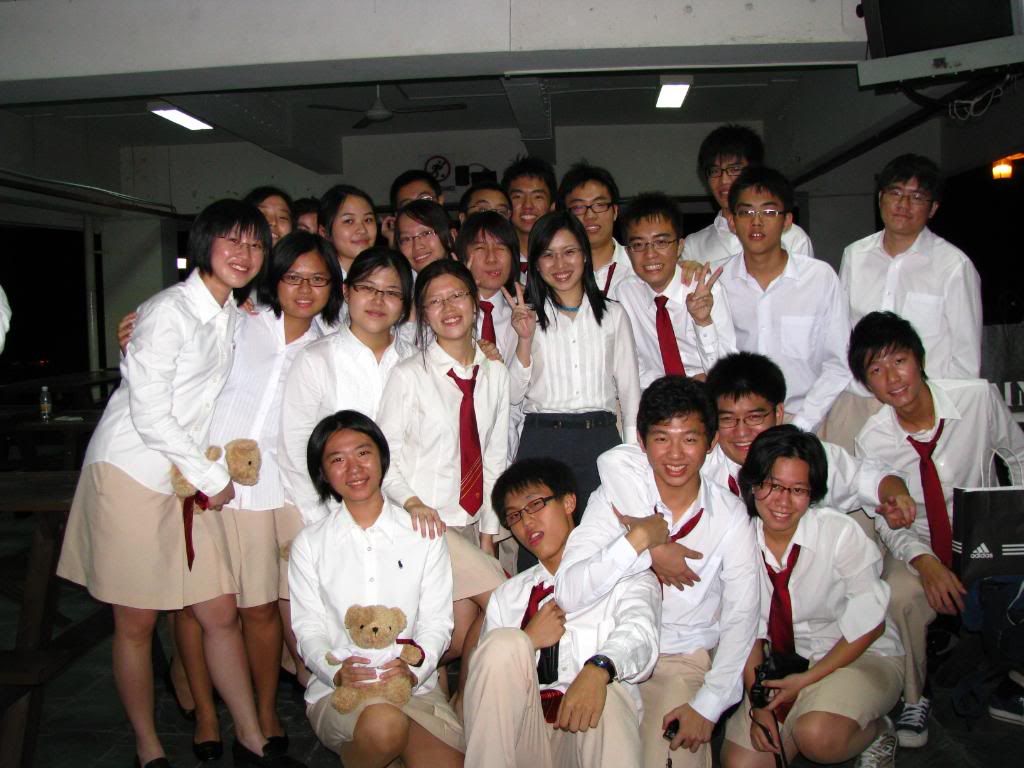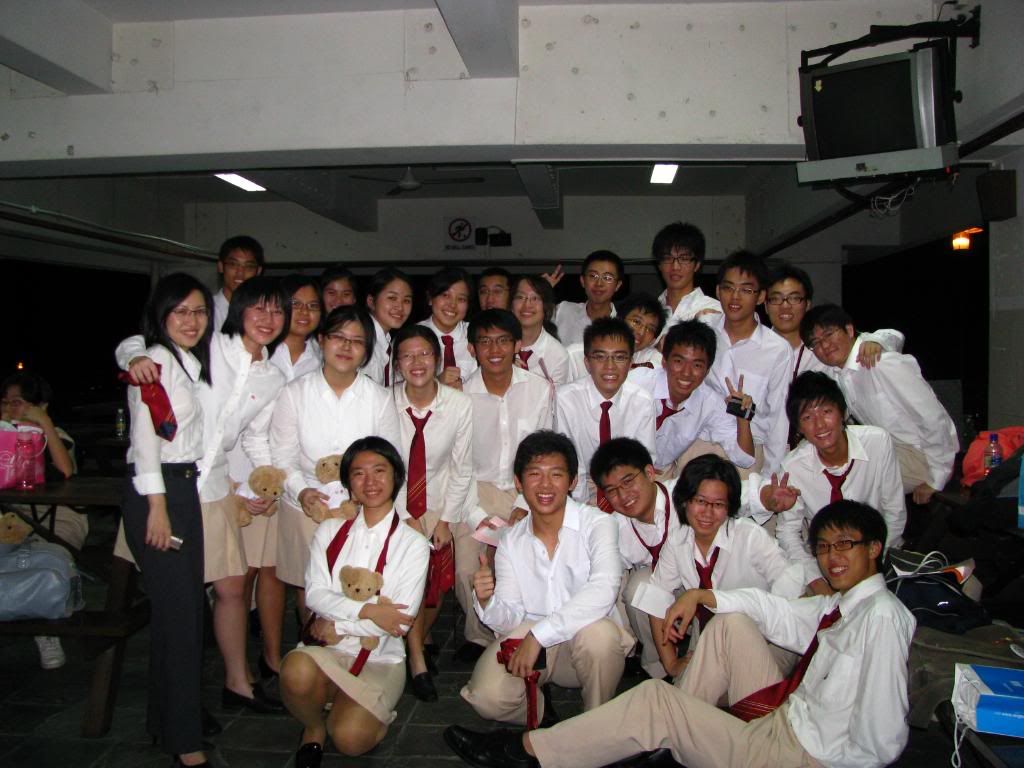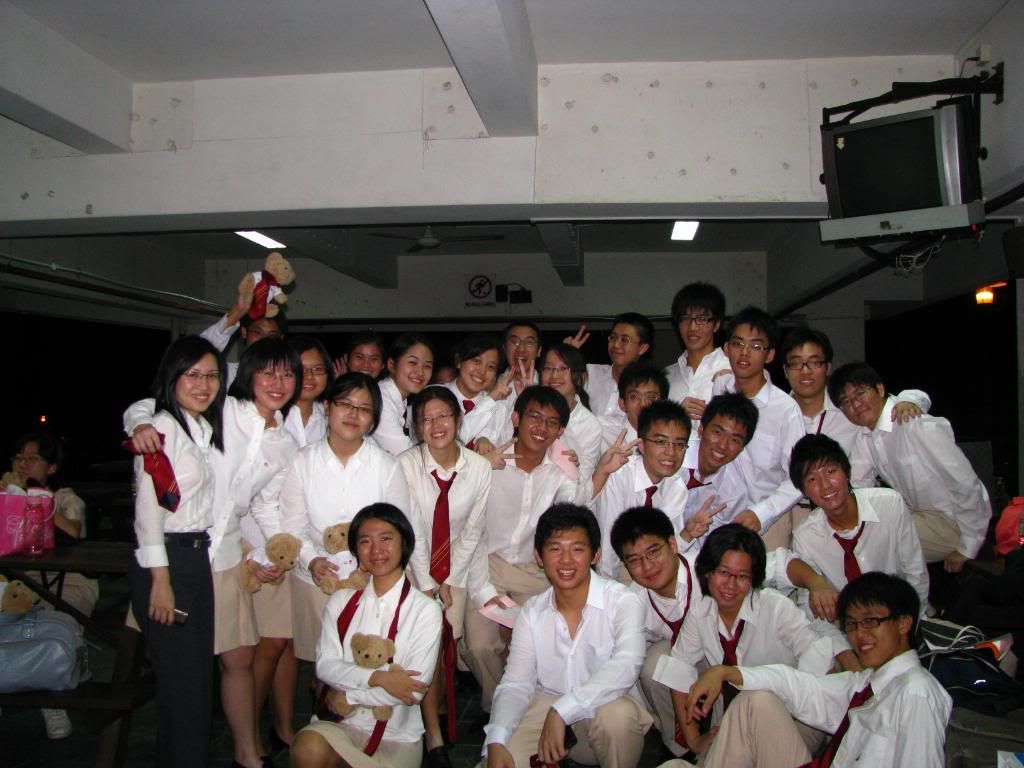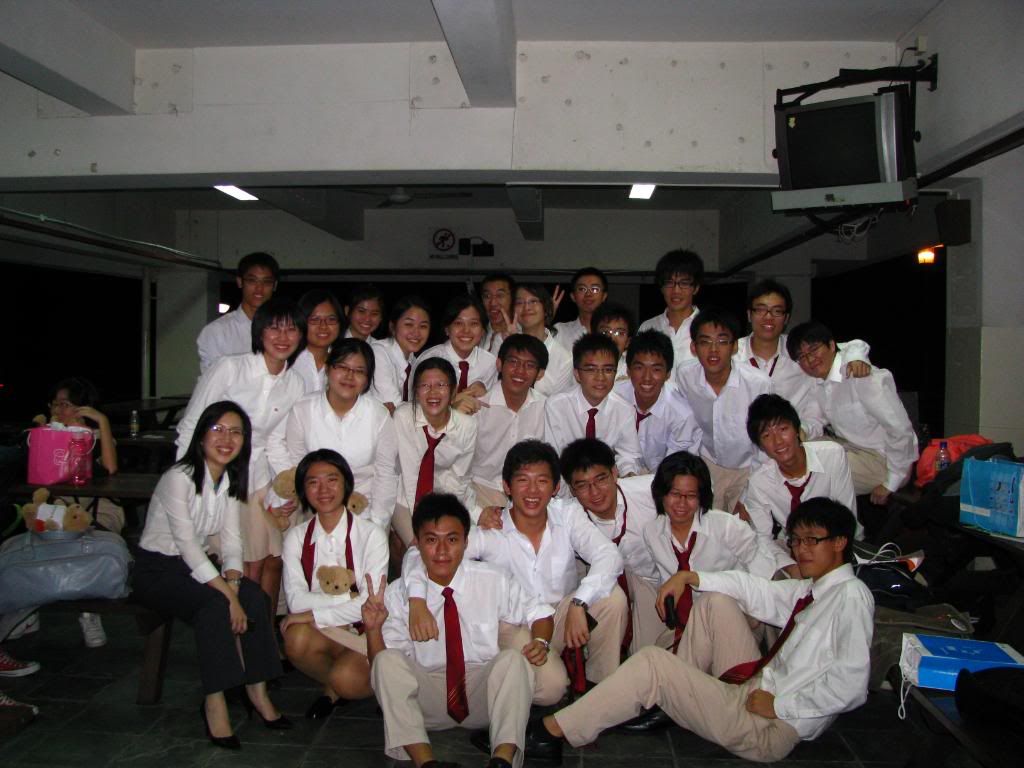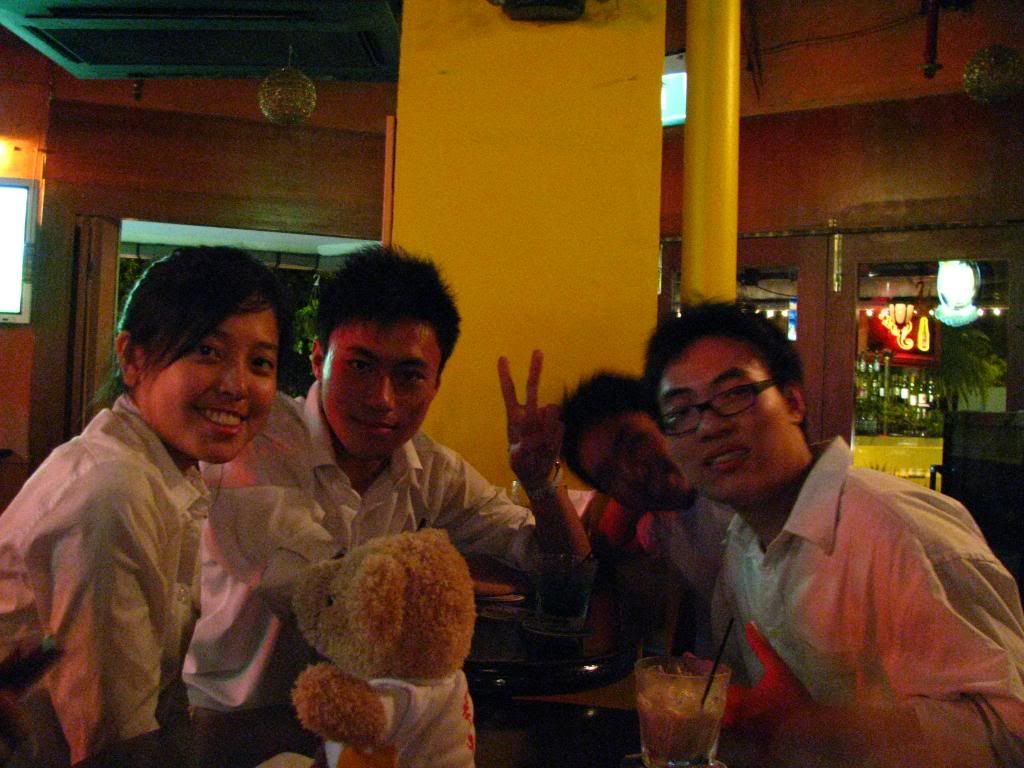 On a side note, I was trying to get a shot of some nice clouds over the school but when the photos were developed, a strange and chilling image appeared...
...O_O
Happy mugging for A-levels! Not like you've an excuse to do anything else :)
- Shibao
Posted by Fooby at 9:28 PM
lalala
MOAR FOTOZ
Posted by mish + at 8:53 PM
Monday, October 13, 2008
D8
YOUR PICHERZ R HERE
Posted by mish + at 2:02 PM
Sunday, October 12, 2008
grad day (or night)
it took me ages to upload everything onto webshots although i could have done it faster using photobucket but webshots offers slightly better quality photos. now they are up for
grabs
!
i would like to ask this: may i know who's the other person who took a photo of joyce and me? can you pls send it to me? cuz my photographer totally pressed the shutter at the wrong time from the wrong angle! hurr. sorry photographer i really forgot who you were and pls don't be insulted if you read this comment. i really appreciate your help and i don't mean anything nasty.
anyway i forgot to thank a lot of people on grad day. so here's what i have to say!
to althea: thanks for keeping me company (almost) every morning on the way to school! sorry to keep niaoing you but you are just too fun to niao at :) you are fun and great and it's wonderful having you around. train on your reflexes so that you can be fast enough to step on my feet next time.
to eliza: thanks for confiding in me and being my listening ear at times. i know life's not easy for you but i know you are a strong girl. have faith in yourself. don't worry i'll keep my lips sealed and carry your "secrets" to my grave :)
to geraldine: thanks for being my other listening ear! i'll never forget our failed attempt to enter zouk and the emoing session later at marrakesh! you are a smart girl and i'm certain you'll get straight a's for a's. be a good doctor so that i'll know who to approach if i need free MCs next time.
encouragements to the following people:
to cherie: i admire your character and your resilience. i know you've been working very hard and i'm sure your efforts will pay off. continue to persevere. the end is coming near! but try to relax a lil sometimes and give yourself some space to breathe.
to nic ng: dun be surprised i have not forgotten about you! stay strong and have faith in youself just like i have faith in you. continue to work hard and don't lose steam! and don't give up easily that's very important!
ok i guess i'm long-winded enough. hope basil's not waiting for me to upload this post cuz it is like 12.30am now :P
Posted by [qiggy] at 11:54 PM